How to Create New Order ::
---
Steps to Create Order ::
Create Account ::
First you have to create an account with our portal, for that just go to the MY Account
and Register with an active email id,  a Confirmation Link will be sent by  email  to your registered email id, just click the verification link ,on successful verification.
Now Login to your Account
SEARCH MEDICINE ::
GO TO THE SEARCH BAR AND TYPE THE FIRST THREE FIVE
LATTER FOR MEDICINE SALT OR CONTENT
LIKE DOLO ::Brand Name have Salt   =   Paracetamol
Amlokind AT :: Brand Name – Have Salt  =  Amlodipine and Atenolol
So we can search for any content like Amlodipine or Atenolol
FOR EXAMPLE IN THE IMAGE OF THIS  AMLOKIND-AT ::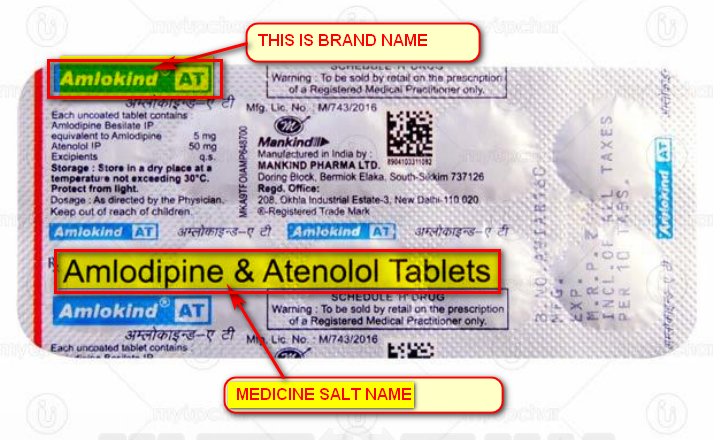 ACCORDING TO ABOVE EXAMPLE , YOU CAN FIND THE SALTS OF YOUR OTHER MEDICINES , AND SEARCH ON PORTAL. AND ADD TO CART.
Step 1… 
then the search result will show all the listed product for the
Medicine.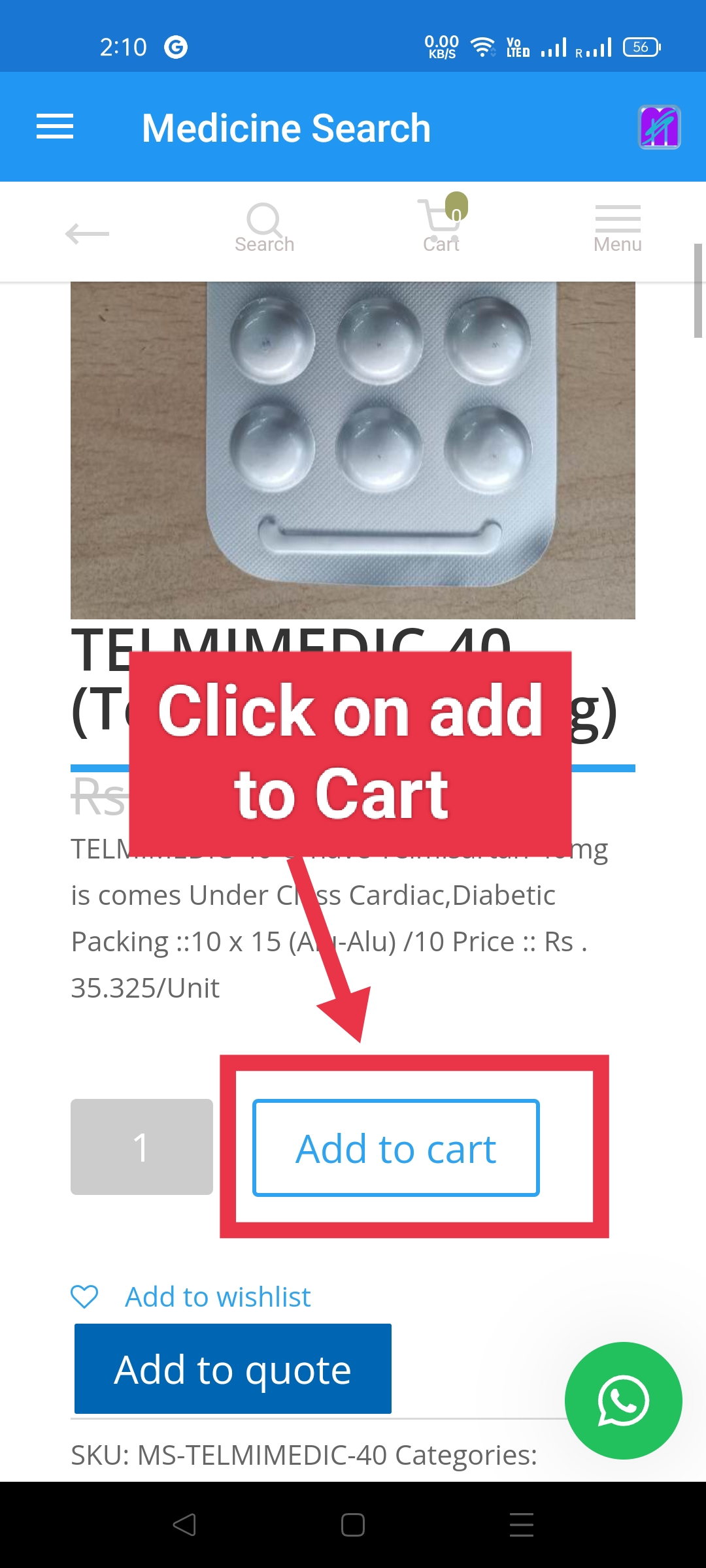 FOR SUGAR & B.P. OR Neuro etc. PATIENTS MEDICINE == GLIMEPRIDE or TELMISARTAN OR PREGABALIN etc.
OR ANY OTHER SALT IN YOUR MEDICINE, JUST LOOK IN THE DETAILS ON PACKING FOR MEDICINE SALTS.
NOW SELECT THE MEDICINE FROM LIST AND OPEN IT OR JUST ADD IT TO CART DIRECTLY
NOW GO TO CHECKOUT OR VIEW CART TO UPDATE CART  ETC.
AFTER FILLING DETAILS COMPLETELY AND CHECKING THE ORDER DETAILS , JUST PROCEED TO CHECKOUT
CHECK ALL THE ERRORS OR MISSING INFORMATION, LIKE MINIMUM ORDER ALLOWED IS RS.200/
BELOW RS.200/ CHECKOUT IS NOT ALLOWED.
AFTER CORRECTION IN ORDER CLICK THE CHECKOUT, AND FILL THE DETAIL INFO FOR ORDER DELIVERY ADDRESS FOR BILLING AND SHIPPING IF SHIPPING TO DIFFERENT ADDRESS.
NOW COMPLETE THE ORDER PAYMENT BY UPI METHOD, BY SCAN ON PHONE OR IF YOU ARE USING IT ON PHONE JUST CLICK THE LINK AND PAY BU YOUR CHOICE UPI APP IN YOUR PHONE.
Step 2….
Accept Term & Condition and Click on Place Order Button 

That's all Just Complete the Payment By your Choice of Payment Mode like UPI , Net Banking, Card etc.
Pay With UPI QR Code  Direct Payment Method :: EXTRA 2% DISCOUNT
AFTER PAYMENT COPY THE TRANSACTION ID AND PAST IT IN NEXT STEP.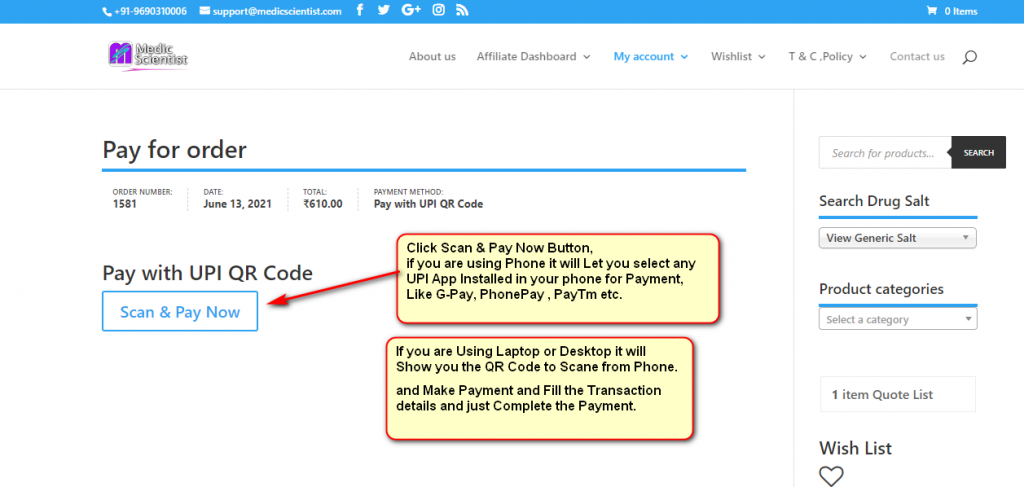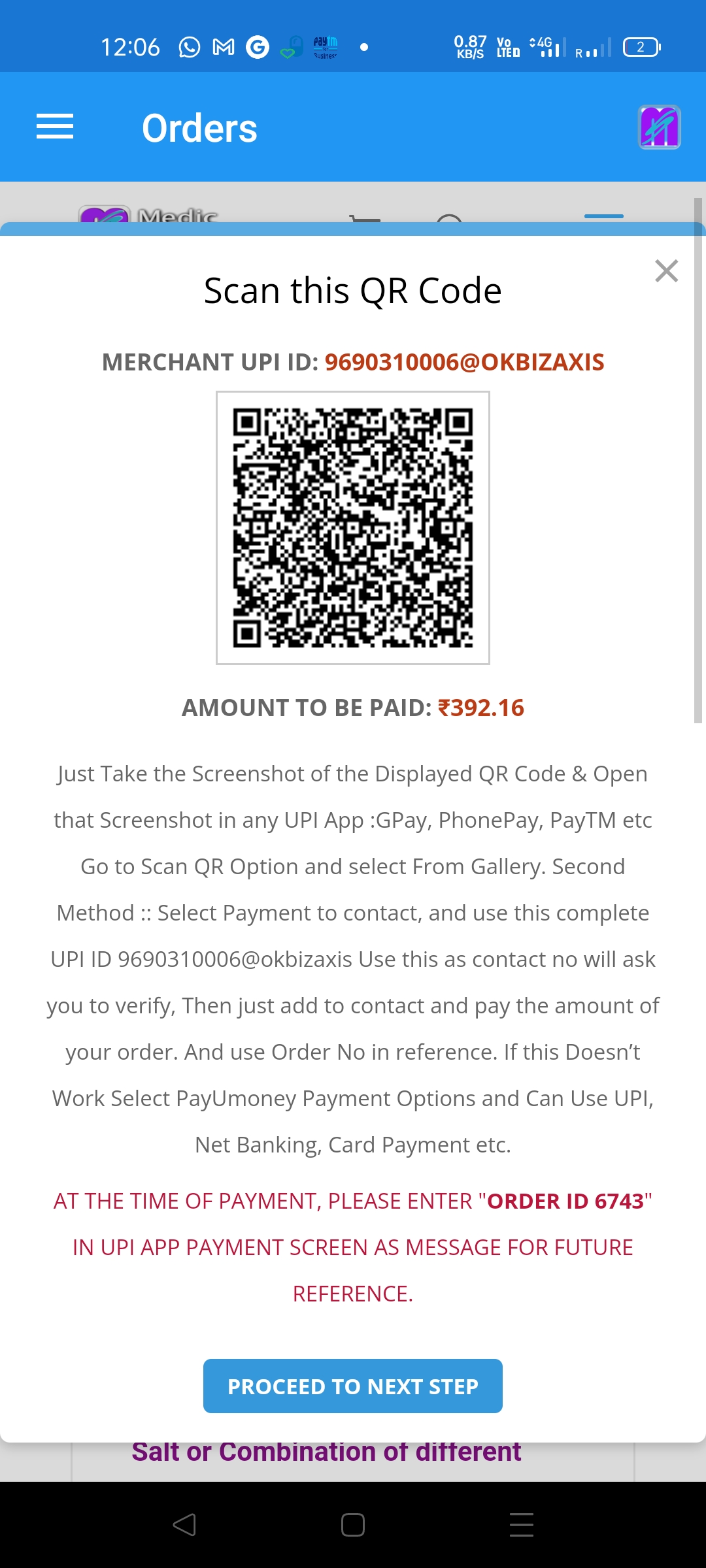 Just Took the Screenshot of the QR Code,  use it for payment in any UPI App, Just Use Any UPI App like Gpay, PhonePay, PayTm etc,  go to qr code scan button and , select the Image Option from gallery and just pay complete the transaction.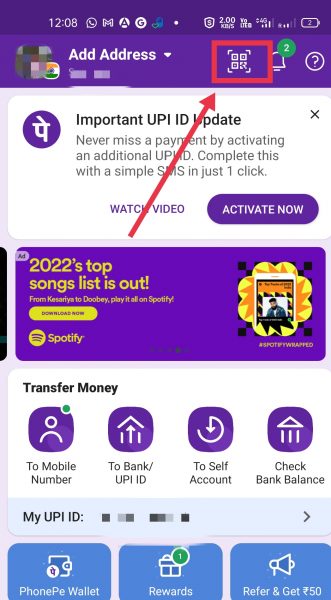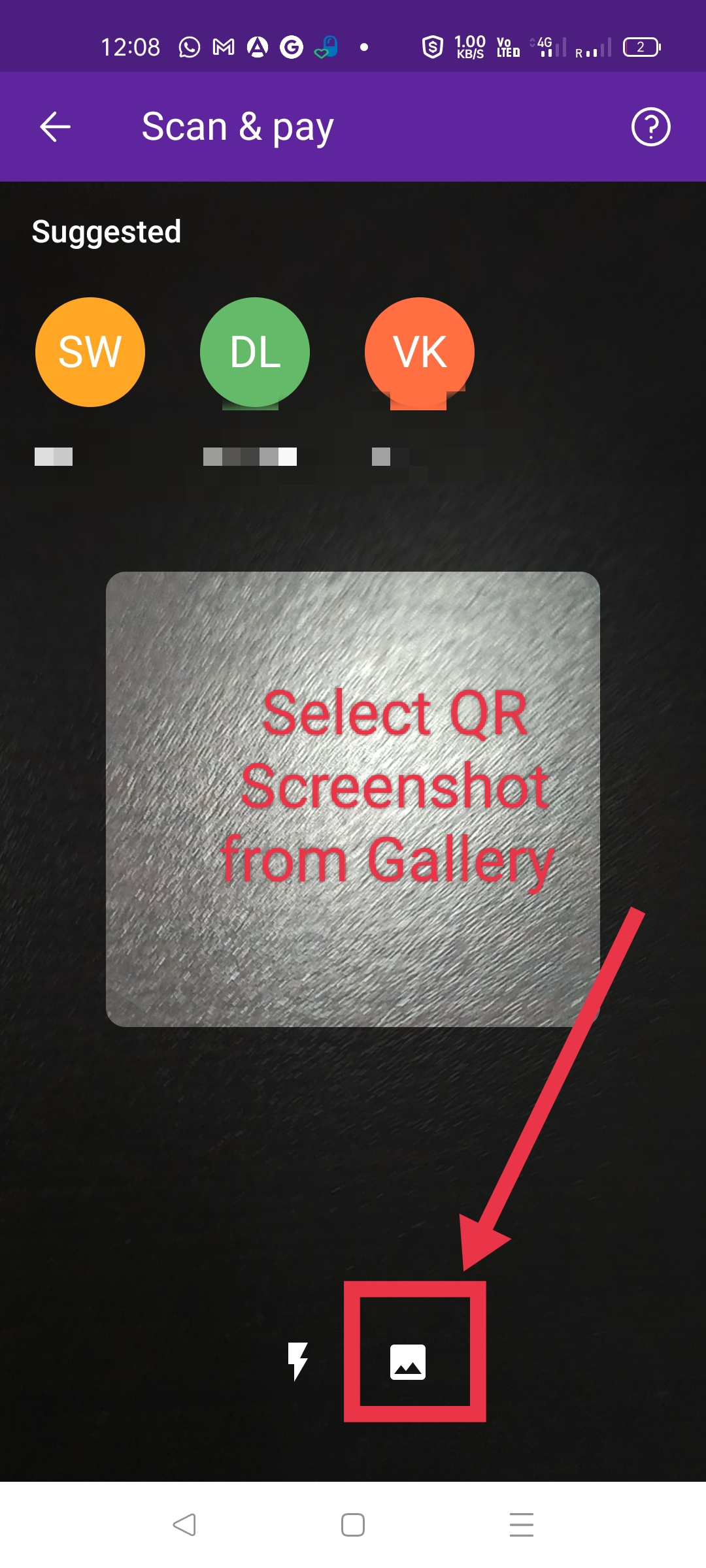 SELECT AND HOLD THE TOUCH FOR 2-3 SECOND TO PROPERLY SELECT THE IMAGE, AND THEN JUST CLICK THE SELECT  BUTTON, THAT'S ALL, NEXT YOU WILL BE PROMPT TO PAY FOR THE ORDER VALUE, COMPLETE THE TRANSACTION AND YOU ARE DONE.  JUST GO TO My-Account – Order Tab for Upload The PRESCRIPTION.
NOW FILL THE TRANSACTION ID AND SUBMIT.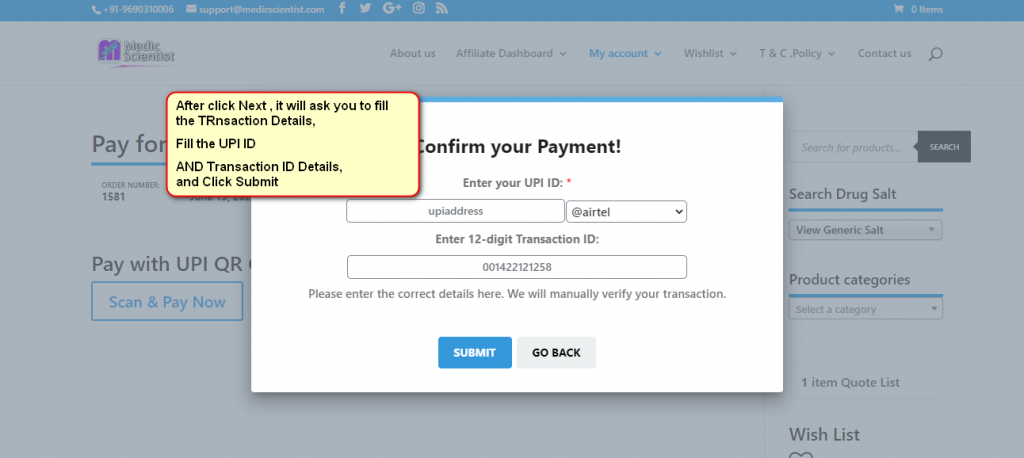 THATS  ALL NOW YOUR ORDER IS COMPLETE YOU CAN CHECK THE ORDER DETAILS IN MY ACCOUNT TAB, ORDER SECTION.
UPLOAD  PRESCRIPTION  :: —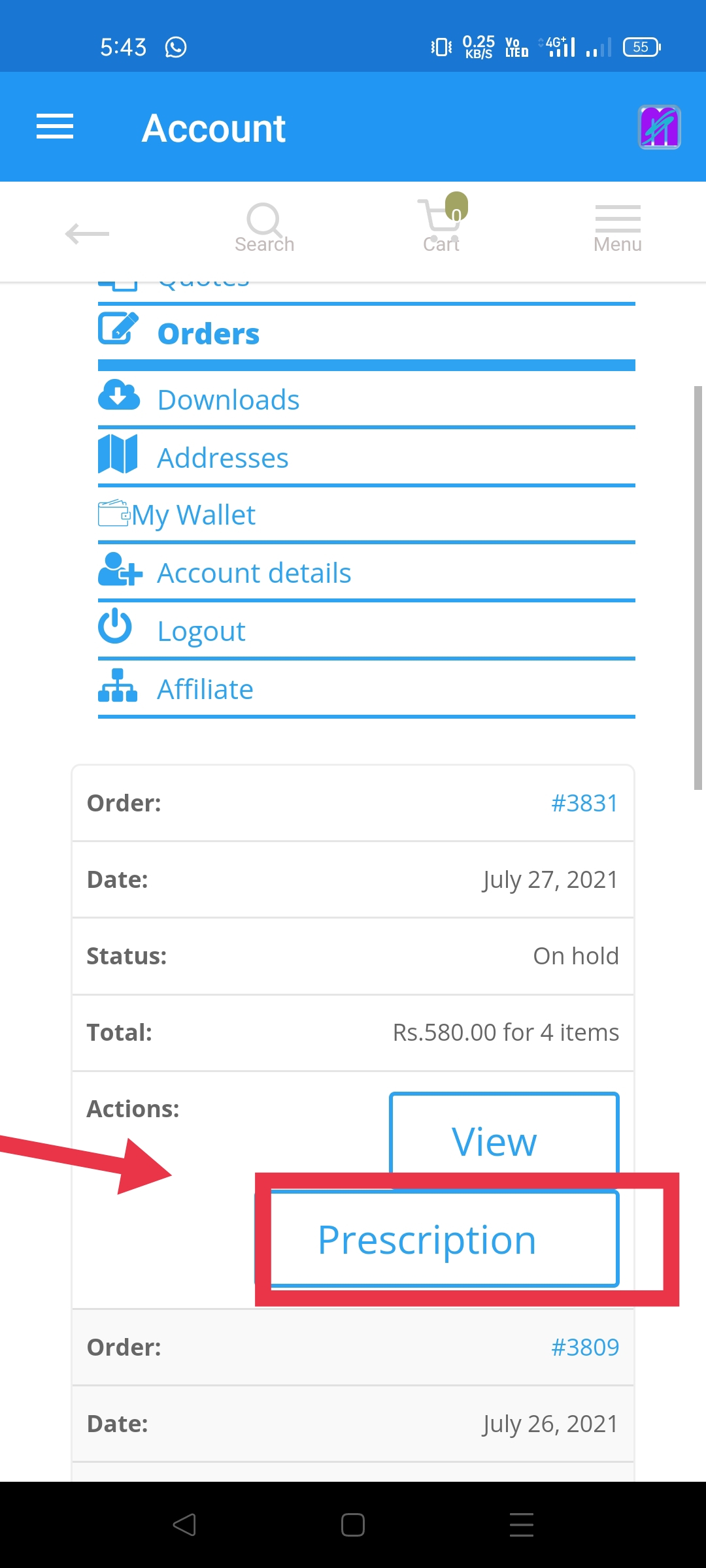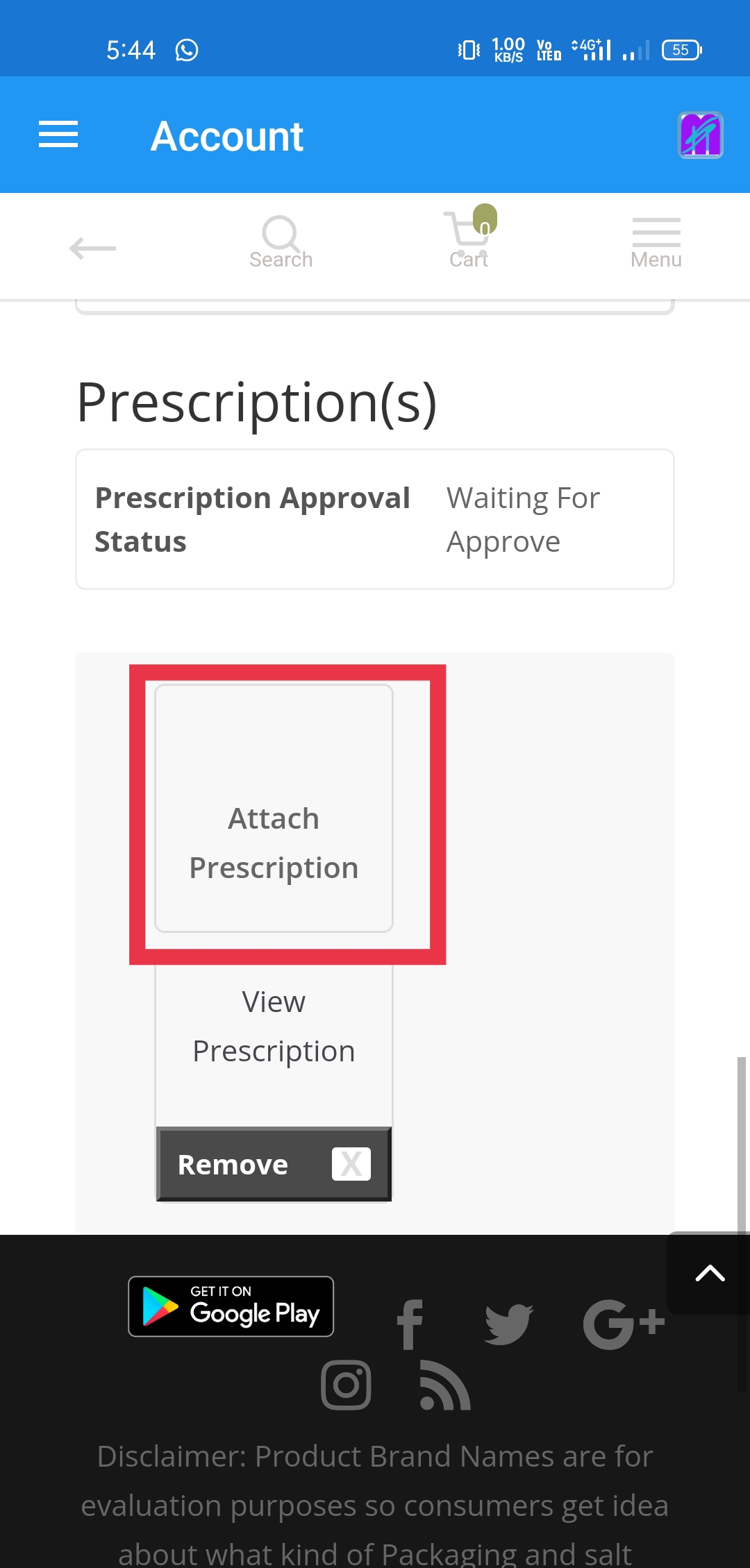 That's all just wait for 2-6 Hours before Confirmation of Prescription .F
or any more details about your Order go to My account Order Tab,
For any help about your Order plz contact us by Email or WhatsApp
USE YOUR ORDER ID IN MESSAGE FOR REFERENCE FOR BETTER HELP
Just Join Now ::
MOST IMPORTANT IS TO GET BEST HIGH QUALITY GENERIC MEDICINES WITH BEST PRICE AND SAVE YOUR MONTHLY MEDICINE BILL UPTO 80% Less.